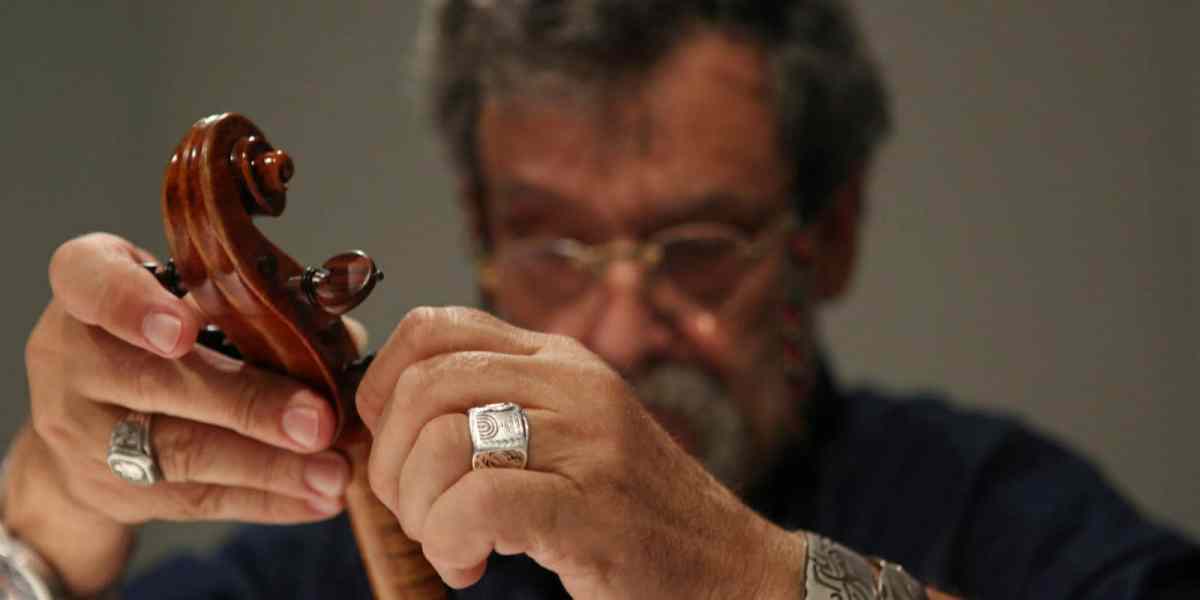 Amnon Weinstein is an Israeli Violin Maker and Restorer in Tel Aviv. His earliest memories are sitting around the table in their home during Holidays like Passover in the early 1940s with sister, Esther, and parents, Moshe and Golda. Their family had secured visas to move to Israel in 1938 but continued to keep contact with their family members in Eastern Europe until Nazi Germany invaded the Soviet Union in 1941, upon which all communications were cut off. They heard nothing from their family. They heard nothing of their family. It wasn't until a Holocaust survivor visited them in their home postwar and informed them of the horrible truth that between Moshe and Golda, 400 of their family members had all been murdered. The pain of this discovery was too much for Moshe to bear, and he had a heart attack that very night. He survived the attack but refused to ever speak of the Holocaust again.
When Amnon asked his mother where all his aunts and uncles, his cousins, his grandparents were, the only thing she could do was point to a picture of the Auschwitz Gas Chambers, informing him that that was where his family was. It was in this type of grief stricken home that Amnon grew up in, but the doors to their home were open to all kinds of Holocaust survivors, many of whom were emaciated, jumpy, frightened by noises, and who would continue to hide bread under their pillows at night but who found a safe haven in the Weinstein Home until they could settle into their new lives.
Moshe passed his trade of luthier, or violin making, to Amnon and eventually, Amnon was trained in Italy and took over his father's workshop in Tel Aviv, keeping his legacy alive. As a young man, Amnon attempted to forget the tragedy that robbed him of his family until one day a customer graced his workshop's doorstep, violin in hand, asking for repairs to his violin as a gift to be given to his grandson. Amnon learned that this man had not played his violin since he had been forced to play by the Nazis in Auschwitz. The role of the Jewish prisoners, who happened to be musicians, was to calm the frightened prisoners as they exited the cattle-cars and entered the camps, as well as performing as these same prisoners were later being led to the crematoriums. As Amnon took hold of the instrument, he noticed the damage on the outer shell from weathering the harsh elements during its lifetime, the rains and the snows in the camps. As he peeled off the top layer of the violin, he was horrified to discover the black ashes lining the inside of the violin, traces of countless lives lost. It was through this experience, and many other encounters, that Amnon founded "Violins of Hope".
For 20+ years, he has been on the journey to find and restore violins linked to Concentration Camps and Ghettos, painstaking piecing them back together, preserving their stories and allowing them to once again be a voice of Hope on the concert stages. Their voices and spirits live on through Amnon's violins.
This April 4-5 2020 is the 75th Anniversary of the Auschwitz Liberation and the Violins of Hope World Premiere is taking place in Charlotte, NC.